Greenheck - Ceiling Exhaust Fan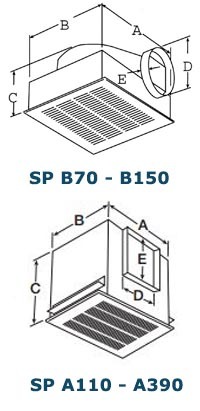 Model SP ceiling exhaust fans are designed for applications where low sound levels are critical. They are ideal selections for offices, conference rooms and restrooms. Their low sound levels are achieved through quiet running forward curved wheels. Models SP-A190 and higher also feature a 1/2" of acoustical insulation in housing for an even quieter performance. All model SP fans are UL listed and licensed to bear the AMCA certified ratings seals for air and sound performance.
Stock Notes:
Units are stocked with 115/60/1 motors
Quick release disconnect
Integral backdraft damper
Available Accessories:
Wall and discharge accessories
Vibration Isolators
Speed Controllers
Dimensional Data
Model
A
B
C
Outlet
D
E

SP-B70, B90, B110, B150

13.875"
11.50"
7"
6" Dia.
1.25"

SP-A110, A125, A190

13.25"
10.625"
9"
8"
6"
SP-A200, A250, A290, A390
14"
11.875"
11.25"
8"
8"
Additional Sizes Available
In Stock
1-Day
3-Day
10-Day

Greenheck Quick Delivery

*Please consult your EAP, Inc. Sales Representative for information
Performance and Pricing Data
Model
Energy Star®
RPM
Amps
Watts
Pressure in inches WG
Price
0
.100
.125
.250
.375
.500
.625
.750
.875
1.00
SP-B70
675
0.16
17.1
CFM
89
75
71
54
35
$110.00
Sones
0.8
0.8
0.9
1.4
2.0
SP-B90
700
0.18
21.1
CFM
104
92
89
72
57
$115.00
Sones
1.9
2.6
2.7
3.0
3.6
SP-A110
950
0.16
19.2
CFM
136
120
117
96
$195.00
Sones
1.2
0.8
0.8
1.5
SP-B110
950
1.14
80.2
CFM
133
114
110
97
95
94
91
85
72
50
$125.00
Sones
1.5
1.5
1.5
2.0
2.0
2.0
3.0
3.5
4.0
4.5
SP-A125
1100
0.19
22.5
CFM
152
131
127
109
$195.00
Sones
1.2
1.2
1.2
1.5
SP-B150
1050
1.70
128
CFM
160
156
155
154
152
149
147
138
123
92
$140.00
Sones
2.5
2.5
2.5
3.0
3.5
3.5
4.0
4.5
4.5
5.0
SP-A190
1400
0.45
54.4
CFM
226
208
204
180
138
$230.00
Sones
3.0
2.5
2.5
3.0
2.5
SP-A200
900
0.47
56.1
CFM
267
246
242
224
199
162
109
68
$235.00
Sones
2.0
2.0
2.0
2.5
3.0
3.5
4.0
4.5
SP-A250
1000
0.56
67
CFM
294
274
271
250
230
201
147
92
$240.00
Sones
2.5
2.5
2.5
3.0
3.5
4.0
5.0
5.0
SP-A290
1050
0.72
80.7
CFM
315
293
287
257
231
207
175
124
$255.00
Sones
2.5
2.5
2.5
3.0
3.0
3.5
3.5
4.5
SP-A390
1350
1.34
135
CFM
410
395
391
368
345
325
307
279
$270.00
Sones
4.5
4.5
4.5
4.5
5.0
5.0
5.5
5.5
Order Information
Model
Stock
Price
Order
SP-A110
9
$195.00

SP-A125
10+
$195.00

SP-A190
10
$230.00

SP-A200
10
$235.00

SP-A250
5
$240.00

SP-A290
7
$255.00

SP-A390
2
$270.00

SP-B110
10+
$125.00

SP-B70
10+
$110.00

SP-B90
10+
$115.00

SPB-150
10+
$140.00