Linx - SPIROsafe Couplings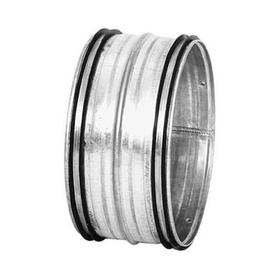 Linx's SPIROsafe self-sealing duct system is based on a U-profile, EPDM rubber gasket. This gasket is located in a groove at the end of the fitting and is securely attached by an aluminum-zinc coated steel strip. This design ensures that the rubber gasket is always held in the correct position. When the fitting is inserted in to the spiral duct, the gasket folds back forming a seal against the inside of the spiral duct completly eliminating the need for any duct sealer!
Linx even GUARANTEES that their SPIROsafe duct system will outperform ASHRAE and SMACNA's Leakage Class 3 tests for at least TEN years. If it fails to hold up to this guarantee, Linx will replace the product at no cost!* Linx spiral pipe is manufactured to be field painted without requiring paint-grip or priming.
*See www.li-hvac.com for complete guarantee details.
| | |
| --- | --- |
| Model | Diameter |
| NPU6 | 6" |
| NPU8 | 8" |
| NPU10 | 10" |
| NPU12 | 12" |
| NPU14 | 14" |
| NPU16 | 16" |
| NPU18 | 18" |
Order Information
Model
Stock
Price
Order
NPU10
10+
$10.00

NPU12
10+
$13.00

NPU14
10+
$16.00

NPU16
9
$18.00

NPU18
10+
$20.00

NPU6
10+
$7.00

NPU8
10+
$8.00