Greenheck - Centrifugal Direct Drive Roof Exhauster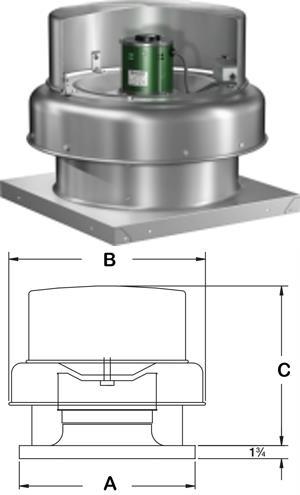 Model G centrifugal exhaust fans are direct driven fans designed for roof mounted applications exhausting relatively clean air. They feature a spun aluminum housing and a non-overloading, backward inclined aluminum wheel. Motors are located out of the air stream with positive cooling by ambient air. Model G fans are UL listed and licensed to bear the AMCA Certified Ratings Seals for air and sound performance.
Stock Notes:
Units are stocked with Varigreen Motors
Potentiometer dial pre-mounted on motor for speed control
Disconnect switch included
Rigid wire birdscreen included
Available Accessories:
Backdraft Dampers (model WD-100)
Prefabricated roof curbs
Dimensional Data
Model
A
B
C
Roof Opening
G-065-VG
17"
19.375"
12.125"
10.5" x 10.5"
G-095-VG
17"
21.75"
14.625"
12.5" x 12.5"
G-103 & 123 VG
19"
24.375"
23.75"
14.5" x 14.5"
G-143-VG
22"
28.375"
23.75
18.5" x 18.5"
Performance Data and Pricing
Model
Static Pressure in Inches wg
Price
0
.05
.1
.125
.15
.2
.25
.3
.375
.4
.5
.625
.75
.875
1
1.25
1.5

G065-VG

1725 RPM

1/6 HP

CFM
307
292
276
268
260
243
223
201
160
146
-
-
-
-
-
-
-
$555.00
BHP
0.03
0.03
0.03
0.03
0.03
0.03
0.03
0.03
0.03
0.03
-
-
-
-
-
-
-
Sones
6.4
5.8
5.8
5.8
5.8
5.8
5.7
5.7
5.7
5.7
-
-
-
-
-
-
-

G-095-VG

1725 RPM

1/4 HP

CFM
1179
-
1114
1098
1081
1048
1013
969
903
-
800
688
-
-
-
-
-
$580.00
BHP
0.13
-
0.14
0.14
0.14
0.15
0.15
0.15
0.16
-
0.16
0.16
-
-
-
-
-
Sones
11.4
-
11.4
11.4
11.5
11.4
11.2
11
10.9
-
11.3
11.3
-
-
-
-
-

G-103-VG

1725 RPM

1/4 HP

CFM
1462
-
-
1405
-
-
1351
-
1298
-
1250
1193
1126
1052
955
-
-
$840.00
BHP
0.25
-
-
0.26
-
-
0.27
-
0.28
-
0.29
0.29
0.29
0.29
0.29
-
-
Sones
12.2
-
-
11.9
-
-
11.5
-
11.2
-
10.9
10.3
10.0
9.5
9.0
-
-

G-123-VG

1725 RPM

1/4 HP

CFM
2093
-
-
2038
-
-
1984
-
1928
-
1871
1810
1743
-
1600
1426
1180
$915.00
BHP
0.40
-
-
0.42
-
-
0.44
-
0.45
-
0.46
0.47
0.48
-
0.50
0.50
0.47
Sones
17.4
-
-
17.2
-
-
17.0
-
16.8
-
16.7
16.4
16.2
-
15.5
14.9
14.0

G-143-VG

1550 RPM

3/4 HP

CFM
2875
-
-
2797
-
-
2719
-
2644
-
2566
-
2396
-
2191
1910
1297
$1080.00
BHP
0.71
-
-
0.73
-
-
0.74
-
0.76
-
0.77
-
0.78
-
0.79
0.76
0.65
Sones
17.7
-
-
18.0
-
-
17.4
-
17.2
-
16.8
-
15.0
-
14.8
14.8
14.9
Order Information
Model
Stock
Price
Order
G-065-VG
10
$555.00

G-095-VG
10+
$580.00

G-103-VG
2
$840.00

G-123-VG
7
$915.00

G-143-VG
8
$1080.00